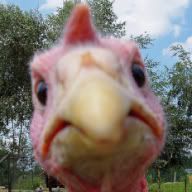 1 serving per person of turkey breast
BBQ sauce of choice - I like the spicy/sweet ones
finely chopped onion, peppers, jalapenos (to taste)
In a microwave safe bowl, take two forks and shred the turkey breast until it's stringy. Stir in your chopped veggies and BBQ sauce - I like to use enough sauce to cover the top layer of turkey. Stir well and put the turkey in the microwave - heat for about two minutes per serving.
You can serve this on a bun, in a wrap or just on a plate with some salad on the side. It's some yummy stuff and bears a strong taste similarity to something you've simmered all day long!
Tomorrow's recipe is going to be turkey noodle soup - stick around for it - so YUMMY!!!!
The holiday pounds are gathering and rejoicing on my tummy, giving me a really awesome muffin top in my work clothes. You can imagine my delight.
The back issue is getting worse. I've been to the doctor, who says she is as certain as can be that I have one or more herniated discs. I declined the MRI because she said she would not be treating me any differently if I stuffed myself into that tiny claustrophobic tube. I hate the helplessness of this - I'm starting to feel like a cripple - I hobbled around all day today and bear a rather strong resemblance to Quasimodo.
I have some physical therapy exercises I can do to help, which is great - makes me feel like I'm actually accomplishing something.
I'm using heat almost constantly, which relieves some of the pain. The other options offered were heavy duty painkillers, epidural painkillers and a bunch of stuff I can't afford (massages, etc.) I've chose to stick with ibuprofen because it dulls the pain to a tolerable level and I can still function. No way are they shoving needles in my spine. Just, ew. Not gonna happen. This isn't much of an update because there is simply nothing new to tell.
I hope all is well and you are enjoying your turkey!