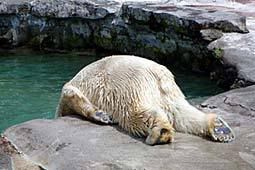 Nah, not that kind of hangover - I don't drink. But I feel about like that poor polar bear after my off-plan meal last night.
My off-plan meal was in the plan - Friday night, going out with the girlies and having dinner and dessert. I feel like I ate with complete reckless abandon. It didn't feel like that much at the time but this morning I feel vaguely queasy, I slept in a awkward position and my back hurts and it feels like I just got run over by a truck. That'll teach me.
We had Philly Cheese Steak sandwiches - I got a small - and french fries - how I love french fries. Later we had this delicious lemon coffee cake my oldest daughter made. That kid can bake! (Much to my dismay at times!) We also enjoyed some dark chocolate truffles. Orgasmic dark chocolate truffles. Those have been rehomed to the freezer, since making the creamy filling rock hard defeats the delicious purpose of them.
This feels like confession. I never used to feel guilty after an off-plan meal. It must be the adjustment - this is the first full week I've managed to stick to my plan (well, mostly sticking to the plan.)
Onward to happy thoughts. At least today this makes me feel motivated to make deliciously healthy decisions. After I have some toast I am off to the grocery store to make some fabulous food choices for the week. I just got paid a nice bonus from work so I'm excited to be able to get some great stuff without counting pennies.
I feel good that I managed, despite all of the temptations around me, to stay the course this week and eat properly 90% of the time. I wasn't perfect, but I stayed accountable, which is apparently vital for me, and I was way better than I had been before. I'm awaiting tomorrow's weigh-in and measuring with mixed emotions. On the one hand, I'll be bummed if everything stayed the same. On the other hand, I know I haven't been as strict as my be necessary and I'm smart enough to realize that will affect the outcome. I'm far less stressed by not expecting complete perfection of myself, which is a lesson that may allow me to stick with the plan for the long haul.