I procrastinate, but I do finally get things done. A while back, I told you I was unhappy with the research I had used for my "Toxin of the Day" series. I learned after writing the series that animal studies were not always applicable in humans, and I promised to do more research and rewrite those posts. At long last, let's get started.
INTRO
Consider preservatives for a moment. How do you think they preserve food? They preserve food by making it inhospitable to mold and bacteria. Basically, most of them are nothing but minute doses of pesticides. If they are toxic to bacteria, a living organism, how do you think that they affect our bodies?
I'll preface this by saying, I'm not a scientist. I'm a writer. I research things and draw conclusions. I'm finding information from what I believe are trust-worthy sources and providing this information to you, along with my own opinions.
Many people walk around feeling sick and exhausted all of the time. There are diseases that are extremely hard to diagnose, like fibromyalgia and chronic fatigue syndrome, that never used to exist. I believe this is because of the constant influx of toxins and pesticides we are voluntarily consuming. The point of this series is not to say, "Never eat this food again." It's simply to make you aware of what you are putting into your body, and even more importantly, the bodies of your children.
Today's lucky winner is Trisodium Phosphate. We're going to dissect it, see where it comes from, what else it is used for and figure out the potential effects of this on our bodies.
Sodium phosphates
are used as an emulsifier - that means they blend foods that would not normally stay blended. You know when you make something from scratch and you mix it, then leave it on the counter for a while? When you come back, the ingredients have separated.
Sodium phosphates
are added to keep that separation from occurring. They are commonly found in processed cheeses, processed meats, and canned soups. It can also be used as a leavening agent in batter or commercial cakes. It's in Cheerios, too, which every mom in North American feeds their little ones.
But here's the scary part.
Trisodium Phosphate
is used for a lot of other things, and none of it sounds appetizing.
The primary use for this chemical is in cleaning products. Particularly, it is the active ingredient in many
toilet bowl cleaners
. I actually have one in my bathroom that contains this product. This is what the warning label says:
MAY DAMAGE GROUT AND CORRODE METAL. USE GLOVES WHILE HANDLING THIS PRODUCT.......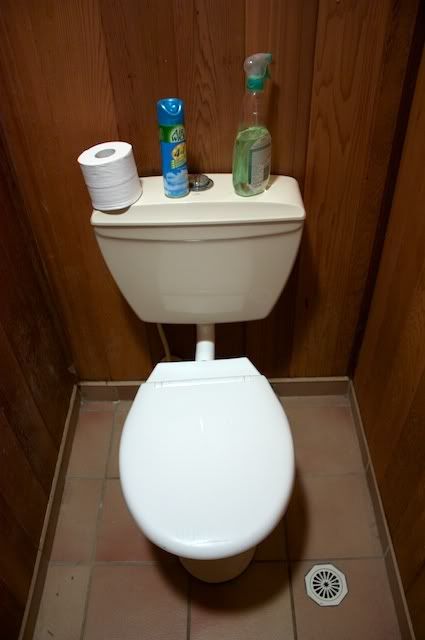 The Clean Water Act has taken steps to limit use of this product in cleaning supplies because of the damage it causes to the environment. They have great ecological concerns about this chemical being introduced into our water supply.
Sodium phosphate, tribasic is designated as a hazardous substance under section 311(b)(2)(A) of the Federal Water Pollution Control Act and further regulated by the Clean Water Act Amendments of 1977 and 1978. These regulations apply to discharges of this substance. This designation includes any isomers and hydrates, as well as any solutions and mixtures containing this substance.
[40 CFR 116.4 (USEPA); U.S. National Archives and Records Administration's Electronic Code of Federal Regulations.
The FDA, however, still deems
Trisodium Phosphate
safe to eat. The phrase used by the FDA is "allowable tolerances", meaning that in certain amounts, this caustic substance is unlikely to cause harm.
What one must consider, though, is in a a day full of a diet of processed food, is it possible, even likely, that you will consume more than the "allowable tolerances"? Do you even want to consume food that has "allowable tolerances"?
Another favorite reference of mine with these toxins is the Material Data Safety Sheet. Keep in mind, this is an industrial reference guide referring to contact with the pure unadulterated substance, but the warnings about the pure substance are food for thought.
This is what the MSDS has to say about
Trisodium Phosphate:
Trisodium Phosphate
3. Hazards Identification
Emergency Overview
--------------------------
WARNING! HARMFUL IF SWALLOWED OR INHALED. CAUSES IRRITATION TO SKIN, EYES AND RESPIRATORY TRACT.
---------------------------------------------------------------------------------
Potential Health Effects
Inhalation: Tri Sodium Phosphate causes irritation to the respiratory tract. Symptoms may include coughing, shortness of breath. Behaves as a moderately strong alkali; intense exposure may result in the destruction of mucous membranes. May cause asthmatic bronchitis, chemical pneumonitis, or pulmonary edema.
Ingestion: Trisodium Phosphate causes irritation to the gastrointestinal tract. Symptoms may include nausea, vomiting and diarrhea. May cause mild burning of mouth, throat, and stomach. Its alkaline nature may injure the esophagus and digestive tract. Aqueous, highly alkaline solutions may produce caustic burns.
Skin Contact: Tri Sodium Phosphate causes irritation to skin. Symptoms include redness, itching, and pain. Extent of damage depends on duration of contact. More serious effects may occur if the skin is moist. Aqueous, highly alkaline solutions may produce caustic burns.
Eye Contact: Trisodium Phosphate causes irritation to eyes, may be severe with possible corneal damage. Aqueous, highly alkaline solutions may produce caustic burns.
Chronic Exposure: Repeated exposure of Trisodium Phosphate may cause symptoms similar to those listed for acute effects. May cause permanent tissue damage to the skin and eyes.
Aggravation of Pre-existing Conditions: No information found.
4. First Aid Measures
Inhalation: Remove to fresh air. If not breathing, give artificial respiration. If breathing is difficult, give oxygen. Get medical attention.
Ingestion: Do NOT induce vomiting. Give large amounts of water. Never give anything by mouth to an unconscious person. Get medical attention.
Skin Contact: Immediately flush skin with plenty of soap and water for at least 15 minutes. Remove contaminated clothing and shoes. Get medical attention. Wash clothing before reuse. Thoroughly clean shoes before reuse.
Eye Contact: Immediately flush eyes with plenty of water for at least 15 minutes, lifting lower and upper eyelids occasionally. Get medical attention immediately.
I know, that's kind of long and boring and most of you didn't even read it. That's okay.
I did not find any information on long-term physical effects of consumption of this product. Maybe there aren't any. However, the information regarding the chemical itself is enough to make me plan to avoid
Trisodium Phosphate
.
Eat this if you want to. The FDA says it's "generally recognized as safe" in certain amounts. But if you choose to consume this chemical and feed it to your kids, at least you are doing so with your eyes open.
Know what you're eating!