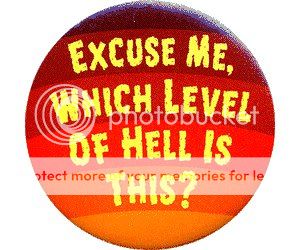 Today I discovered a special, particularly intense form of torture. Do you want the good news or the bad news first?
Okay, I'll give you the good news. I was fortunate enough to get a freelance gig editing a cookbook! Woohoo! Hooray on the career front - what a thoroughly pleasant way to spend a day. I spoke to intelligent people, got to read all day long surrounded by other people reading and working quietly on their computers. It was work in the industry I am trying really hard to break into. How awesome is that? I'll answer for you - pretty darned awesome.
The bad news - I didn't take enough food. I ate breakfast in the car and brought a great, filling meal with me. Unfortunately, I ate that meal at 11 am and didn't leave until after 5. Add to that looking at stunning photographs of luscious-looking food, reading the decadent descriptions and scanning the recipe for errors.
This, my friends, was a special level of hell. I was really hungry - like the light-headed kind of hungry - and I was reading about things I would absolutely love to eat at that very second. Because things got off to a late start this morning, if I had left to get something to eat, I wouldn't have had time to finish the assignment So I sucked it up and got the job done. I did have some Diet Coke, which is my own personal form of crack right now, but I survived and even made pleasant, somewhat coherent conversation.
Despite the hunger pangs, it was the best day at work ever - I so hope that this is a step in the right direction for my career!
Now for the really bad news. I was driving home, and of course, I was stuck in traffic. I knew after creeping along for twenty minutes that there was no way I'd make it home in an hour to have the healthy meal I had prepared there, so I crossed three honking, angry lanes of traffic because I saw a Wendy's sign. I didn't just cave a little and make healthy choices.
Oh no.
You know me. Go hard or go home. I shoulda gone home.
In my defense, I immediately threw away half of the fries. And I had a Fresca (0 calorie drink!!!)
I'm guessing that doesn't really make up for the DOUBLE cheeseburger, though, huh.
So........
Today's Eats:
m1: whole grain organic English muffin, dried cranberries, natural peanut butter, and skim milk
m2: Greek yogurt mixed with protein powder, a ton of blueberries, and Kashi cereal
m3: Wendy's double cheeseburger, half an order of fries
(See - even the font is blushing.)
Well, I made it a whole two and a half days before caving, but at least I didn't have sugar. Tomorrow is a fresh start, just like always.
The beautiful thing about going off your plan is going right back on it. When you go right back on it, you've had a minor "blip". When you get yourself into trouble, when you fail is when you say, "Well, I already blew it with that cheeseburger, I might as well have some ice cream now!" When you say that, it is a greasy slide to chub, my friends. We always have another chance to get things right the very next meal.
How am I rebounding from this "blip"? A nice walk with the dog and great eats tomorrow. I concocted an idea in my head on the drive home today - so we will see if it's as good in reality as it was in my brain! Look for recipes - at least one - tomorrow!