Do you ever take a long hard look at yourself and realize you aren't very exciting?
Today, for Mother's Day, my primary wish was for assistance in revamping my dining room set. I decided to spend $40 on supplies instead of spending $40 taking us out to eat an unhealthy meal.
After church, the girls and I painted the table, the leaves, the buffet and the china cabinet. I have this awesome 30s or 40s dining room set that I have been wanting to "funkify" for a long time. So now, the whole thing is a nice matte black. Next week I am going to get an elaborate black and white patterned wallpaper for the inside of the china cabinet, and eventually I am going to get the chair cushions recovered in zebra print.
The kids were reluctant but I guilted them into it because it's Mother's Day. Guilt can be a beautiful thing.
My 14 year old is making me dinner tonight. I requested burgers,salad and ice cream.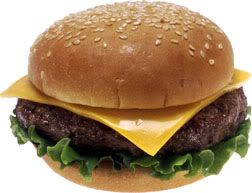 This way I can have my yummy "craving" meal and not totally break the calorie bank. Cheeseburgers are my absolute favorite junk food, and making them it home, they don't have to be so "junky." We are having them with extra lean ground beef and whole wheat buns. Total yumminess.
I hope everyone's Mother's Day is as nice as mine has been!